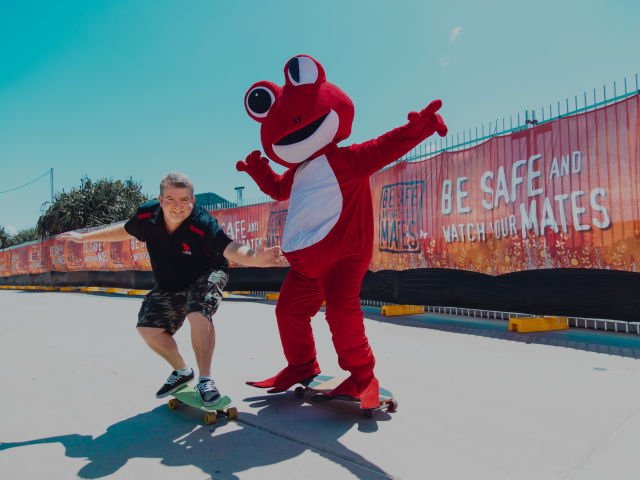 History

It all started on the Gold Coast, Australia.

The concept of Red Frogs started in 1997 when founder Andy Gourley (then youth pastor at Citipointe Church) hit Schoolies Week on the Gold Coast with his skateboarding mates and realised the need for a designated sober person at the massive drinking parties.
Seeing a need for this type of support for young people in the UK, the Red Frog UK Crew launched in 2007.
The Red Frog Crew spend most of their time hanging out in residential colleges and universities during freshers week and study week. Then throughout the semester you'll see us at hydration stations in parties, cooking pancakes, running cafe crawls and doing many other random acts to help support uni students through their studies.

The Red Frogs also operate in New Zealand, South Africa, Zimbabwe and Canada.
Starting on the Gold Coast, Australia, the Red Frogs jumped the pond and launched in the UK in 2007.
With a team of 17 volunteers wearing t-shirts screen printed with 'Hotel Chaplaincy', Andy hit the Gold Coast with a budget of $450 in pocket. They started door-knocking every hotel room and looking after Schoolies. Many Schoolies were skeptical and closed the door in their faces - until they discovered the magic of a small red lolly.
Volunteer Sam Bartlett cooks the very first pancake for his Schoolies. Little did he know they would become part of the very DNA of Red Frogs! We now do thousands of pancake cook-ups annually.
As the frog supply tips over the 1 tonne mark, Hotel Chaplaincy expands across Australia – now aiding Schoolies/Leavers celebrations 10 locations with 685 volunteers supporting 95,000 party goers.
Red Frogs Education programs gain traction in over 60 schools, educating 8000 year 12 students on safe party behaviour and how to survive Schoolies week.
Allen's Lollies come on board with full sponsorship of the red frog lolly. Today, Allen's donate 24 tonne of frogs each year!
Andy shares why you should take candy from strangers at TEDxSouthbank
Red Frogs now safeguards millions of young people annually across Australia, the UK, Canada, South Africa, Zimbabwe, The USA and New Zealand.